TEXT2FLOSS BECOMES A GLOBAL FAVORITE
2015 was another busy year for Text2Floss. It was presented in multiple global venues from Santiago, Chile to Bangkok, Thailand as well as the UAE, Qatar, and Mexico. Text2Floss also received a 25K grant in 2015, from Delta Dental Foundation, to promote oral health via social media. In addition, an Android version of Text2Floss was recently released in Arabic in and will soon be released in IOS.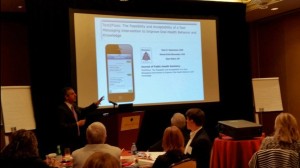 On January 21-22, Dr. Hashemian spoke about Text2Floss at the Delta Dental Community Benefit Forum for Big ideas in Scottsdale, Ariz.  There he presented the benefits of integrating Text2Floss as a way to educate patients about oral health.